Are you feeling less than satisfied with your website and online branding, but you're so busy that you haven't done anything to change it? If so, I can relate to your situation. Not long ago I was facing that same challenge — until I connected with today's guest.
I'm joined on the podcast today by Stephanie Wetzel-Cottrell. Stephanie began her career in corporate marketing 14 years ago. Before launching her own business, she worked as a marketing professional for a variety of successful organizations, including Connexion Technologies, Fast Lane, and McClatchey Broadcasting.
Five years ago, Stephanie made the leap to full time self-employment founding Blue Elephant Creative, a web development and marketing strategy firm focused on helping small business owners and solopreneurs to grow their revenue.
In the course of this interview, we discuss:
how her candid client feedback triggered my recent website rebranding
a proven process to redesign your website and refresh your online brand
rebranding your site to better reflect what your clients actually experience
evoking emotion with website design and leveraging your uniqueness
So, are you ready to get some fresh new ideas on how to improve your online brand and marketing results? If so, then you don't want to miss this episode of the Smart Solo Business podcast. Scroll down to the Podcast Player below and listen now!
(Prefer to read instead? Click on the "Transcript" link at the bottom of the player.)
Podcast Player:
Today's special guest, Charlie Gilkey, is a well-known speaker and advisor on small business growth and strategy. He's also the author of an Amazon bestseller: The Small Business Life Cycle: The No-Fluff Guide to Navigating the Five Stages of Small Business Growth.
As business owners, we've all had good ideas that never came to fruition.  Why? In business, ideas don't get done — but projects do.
Charlie has a passion for helping solos and small business owners to turn their best ideas into projects they can actually finish. The topic of our conversation today is his latest book, The Start Finishing Action Guide: 25 Exercises to Guide You from Idea to Done. 
In the course of this content-rich interview, Charlie reveals how to:
turn a compelling idea into a viable project
start your project strong and gain momentum
create a project road map to stay on track
use a two-step process to avoid getting stuck
complete your project in a way that makes future projects much easier
Isn't it time to turn your ideas worth doing into projects that you'll finish? If your answer is yes, then get ready to take some notes and enjoy this conversation with Charlie Gilkey. Scroll down to the Podcast Player and listen now!
(Prefer reading to listening? Click the "Transcript" link just below the player.)
Podcast Player: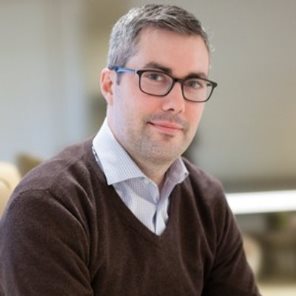 [Legacy post: Small Business Talent] Brian Shea helps solopreneurs and small professional services firms to put sales and marketing systems in place and efficiently acquire more clients. I'm pleased to have him join us on the podcast today to discuss his approach to building a simpler and more successful business.
Brian founded his firm, Shea Consulting, in 2012. His specialty is assisting clients with CRM and marketing automation to eliminate manual, repetitive tasks and amplify their sales and marketing results.
In today's content-rich interview, Brian shares tips from his free ebook: The Time to Grow: Four Paths to Simplifying & Growing Your Business. His goal? To help you save time, reduce stress, and increase your revenue. Scroll down to the Podcast Player and listen now!
Podcast Player: