My guest on the podcast, Dianna Huff, is an award-winning digital marketing consultant. She's also a thought leader who has made content contributions in well-known digital publications such as Forbes, BtoB, Response Magazine, Content Marketing Institute, MarketingSherpa, Marketing Profs, Clickz, Search Engine Watch and Search Engine News.
Dianna launched her marketing communications consulting practice in 1998. Since then, she has developed and implemented web lead generation strategies and communications that improve search rankings, drive website traffic, generate sales and increase profits for clients ranging from small and mid-market companies to Fortune 500 corporations. She has served clients in a diverse range of industries including industrial, manufacturing, environmental, nonprofit, construction, healthcare, enterprise software, IT, financial services and consulting.
Dianna has accomplished a lot as a business owner, and in the last few years she has also made a number of important changes. Perhaps the most significant change she implemented was to narrow her range of service offerings and her marketing focus.
As part of that strategic shift, Dianna changed the name of her consulting firm from DH Communications to Huff Industrial Marketing. Today she is squarely focused on her passion — helping owners of small industrial manufacturing companies in the U.S. to grow their businesses through better marketing. Her unique consulting practice is thriving, and as you'll hear in this interview she has never been more excited about her work.
Dianna is a wonderful example of someone experiencing the rewards of a more specialized consulting practice. Could becoming more focused and specialized help your business stand out and profit? If that's a question you'd like answered, then you don't want to miss the lessons that Dianna shares in this candid conversation. Scroll down to the Podcast Player and listen now!
(Prefer to read instead? Click on the "Transcript" link at the bottom of the player.)
Podcast Player:
Not long ago, a woman who was considering self-employment asked me if I'm happy being a business owner. I told her that I am, and that's basically true.
But looking back there's something else that I wish I'd shared with her. In my 14+ years as an entrepreneur I've experienced both highs and lows, yet through it all I've consciously tried to stay focused on my blessings. In fact, cultivating and demonstrating a sense of gratitude for having the chance to own a business and help other people has been the secret ingredient behind any lasting success I've experienced.
With gratitude comes concern for the well-being of each client and an all-in dedication to helping them achieve their goals. Over the years, I've learned that it's that personal commitment to each client that moves relationships beyond just satisfactory business transactions to lasting partnerships.
Cultivating gratitude and letting that drive how you build client relationships sounds so simple. However, in my experience the reward for doing this can be huge — both in terms of personal fulfillment and profit.
Give yourself and your clients a rare and precious gift. Consciously cultivate and demonstrate your sense of gratitude. Make the effort to do this every day and you may become a far happier and more successful business owner than you ever imagined.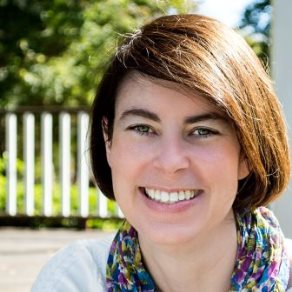 [Legacy post: Small Business Talent] My guest on the podcast today, Katy Tynan, is an author, speaker and consultant. As the world of self-employment changes, Katy is committed helping independent professionals like us to adapt to this evolving landscape and thrive.
Today we'll be discussing Katy's exciting new book, Free Agent: The Independent Professional's Roadmap to Self-Employment Success. Whether you are an experienced solo entrepreneur, or just have a side business that you want to grow, you'll find her guidance on successful self-employment inspiring.
The bottom-line is simple. If you're striving to build a healthy and sustainable business, then you don't want to miss Katy's practical advice. Scroll down to the Podcast Player below and listen now!
Podcast Player: