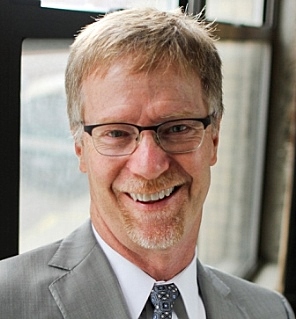 [Legacy post: Small Business Talent] My guest on the podcast today is bestselling author and top sales trainer, Andy Paul. Andy is passionate about helping sales teams and solo entrepreneurs to land more of the customers they want most.
Over the past few years, Andy has written two bestselling books on selling — Zero-Time Selling: 10 Essential Steps To Accelerate Every Company's Sales; and Amp Up Your Sales: Powerful Strategies That Move Customers To Make Fast, Favorable Decisions (the topic of today's interview). In his powerful sales books, Andy delivers insights derived from research in diverse fields such as decision theory, psychology, sociology and sales, and decades of hands-on selling experience, providing self-employed professionals like us with proven strategies to dramatically accelerate our sales.
Andy and I cover a number of important topics in the course of this interview, including:
Using social media to do research and connect with your ideal customers
Why B2B sales is a creative process, and why context always matters
How to approach selling from the perspective of creating value
Storytelling and helping customers to take a "mental test drive"
Three approaches that help us convert prospects into customers
Helping customers to make the right purchase decisions faster is the defining sales challenge for any entrepreneur. The advice that Andy delivers on the podcast today is extremely valuable – you'll take away tips that you can put to immediate use in your selling. Scroll down to the Podcast Player and listen now!
Podcast Player:
A friend of mine is obsessed with the NBA playoffs. He's also an entrepreneur and fond of using sports analogies to describe what it takes to "win" new business.
As a kid, playing basketball and other sports was a great experience. But when it comes to selling my services today, sports analogies just don't work for me.
As a business owner, I think of myself as more like a physician who heals pain than an athlete competing to win. This frame of reference means approaching sales conversations with a strong desire to quickly and accurately diagnose each clients' problem and provide lasting solutions. Prospective clients sense the positive, caring intent behind my approach. This helps create trust and opens up a dialogue about their situation.
In getting to know lots of solo entrepreneurs over the years, I've discovered that their frame of reference around selling always influences their results. For example, they may view sales calls as a battle for control – perhaps they feel like a basketball player trying to wrestle the ball away and drive to the hoop. Does that analogy lead to behavior that builds openness and trust? No, and if you want to develop a long-term working relationship then that's not the way to approach sales.
You can probably think of many other analogies that people might use to describe selling. I've heard them all, from sports to dating, farming, fishing, hunting, chess, solving a puzzle together, etc. Do you relate to any of these?
Perhaps it's time to consider your own frame of reference on sales and how it influences your results. If you're open to some honest self-reflection, I think you'll find these questions worth pondering:
What type of analogy best captures your approach to selling, and why?
How does this relate to your sales attitude, behavior and results?
What shifts in perspective might help you improve your sales results?
Most of us haven't thought about selling from this perspective. The novelty of these questions often leads to creative insights and opportunities for growth.
Have you found this article thought provoking? If so, subscribe to my posts below.
Are you about to lose one of your best clients to the competition? It's a good question to consider. If your clients are anything like mine, they set high standards for themselves and, spoken or unspoken, for the people who serve them.
If you want to retain your top clients long-term, then you'll need to do what it takes to earn their loyalty, including:
Taking the time to understand their business, what their work really requires of them, and how they measure personal success
Constantly listening for changes in their needs, and collaborating with them to improve your services and meet new challenges
Communicating openly when there are issues to work through, and demonstrating that you always have their best interests at heart
I hope you'll decide to apply these principles to your client relationships. If you do, you'll be far more likely to retain your ideal clients long-term. That alone is probably worth a lot.
Of course, your reward for the time and energy you invest in your clients may go well beyond just retaining them. You may become that rare service provider whom they feel comfortable supporting with powerful testimonials that help you to attract more clients like them. They may be happy to refer you to well-connected people within their network. Why? You always go the extra mile for them.
It's largely your own actions that determine whom you'll retain or lose. Reach out to your clients on a regular basis and demonstrate your commitment to making a difference in their business lives. You might make an even bigger difference in yours.
Did you enjoy this post? Please share it with others on social media using the icons below — and don't forget to subscribe. Thank you!