Let's face it, nothing is more important to the success of your business than acquiring the right clients and growing your revenue. My guest on the podcast today, Ian Altman, helps self-employed professionals to become outrageously successful targeting and winning new business.
Ian is a successful entrepreneur and a bestselling author. His latest book, Same Side Selling: A Radical Approach to Break Through Sales Barriers, is packed with creative sales tips and practical strategies for people selling their services in the B2B space.
Same Side Selling has received rave reviews from a variety of business and sales luminaries. Here's what top business thinker and bestselling author, Daniel Pink, had to say: "Altman and Quarles deliver a whole new world of selling, and they're really onto something." I couldn't agree more.
In addition to being an accomplished writer, Ian is also a top-rated speaker for Vistage International. He's often called upon to address CEO forums related to revenue growth, innovation, and sales leadership. Over the years, Ian has become an in-demand sales educator and advisor to professional services firms and solo practitioners like us worldwide.
Ready to discover how you can become outrageously successful at targeting and winning business? If so, then don't miss the creative sales strategies that Ian shares on the podcast today. Scroll down to the Podcast Player and listen now!
(Prefer to read instead? Click on the "Transcript" link at the bottom of the player.)
Podcast Player:
As a Star Trek fan from way back, I have always enjoyed Leonard Nimoy's iconic character, Mr. Spock. Perhaps this is because deep down I wish that we humans were more logical creatures.
Over the years, I've observed that even our business decisions are driven as much by emotion as logic. On a personal level, think back to the last time you purchased a product or service for your business. Was the decision you made completely logical? I'd say no. In fact, I believe that all of us process our decisions through our emotions – it's unavoidable.
If you're skeptical, here's some thought-provoking research to consider. At an annual meeting of the Radiological Society of North America, Dr. Dean Shibata presented his research findings based on an exhaustive study of the patterns of human brain activity during decision-making. Dr. Shibata's study demonstrated that human decision-making processes are directly dependent upon emotions when the implications of a decision are perceived to have even the slightest personal impact.
According to Shibata, the findings of his imaging research support the idea that when people make choices, they need to feel the projected emotional outcome of each choice. If they can't, they often become paralyzed and simply default to the status quo.
What about your clients? If they're fellow business owners or executives, then few things impact them as much on a personal level as the health of their business or career. So, please know this, the decision to buy from you or your competition is an emotional one.
Is your sales process set up to guide clients as they think and feel their way through decisions? If you're not sure, then I encourage you to develop a deeper and more personal appreciation of your clients' journey during their buying process. By consistently cultivating this kind of understanding, you'll be far better positioned to win the hearts and minds of the people you're selling to.
Would you like some advice on how to create a sales process that gets better results? Reach out to me at slahey@stephenlahey.com or 518-439-4439 and let's begin the conversation.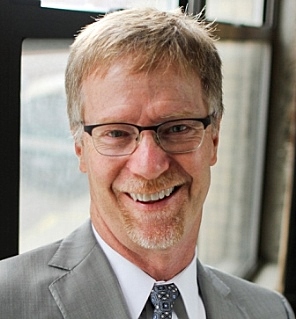 [Legacy post: Small Business Talent] My guest on the podcast today is bestselling author and top sales trainer, Andy Paul. Andy is passionate about helping sales teams and solo entrepreneurs to land more of the customers they want most.
Over the past few years, Andy has written two bestselling books on selling — Zero-Time Selling: 10 Essential Steps To Accelerate Every Company's Sales; and Amp Up Your Sales: Powerful Strategies That Move Customers To Make Fast, Favorable Decisions (the topic of today's interview). In his powerful sales books, Andy delivers insights derived from research in diverse fields such as decision theory, psychology, sociology and sales, and decades of hands-on selling experience, providing self-employed professionals like us with proven strategies to dramatically accelerate our sales.
Andy and I cover a number of important topics in the course of this interview, including:
Using social media to do research and connect with your ideal customers
Why B2B sales is a creative process, and why context always matters
How to approach selling from the perspective of creating value
Storytelling and helping customers to take a "mental test drive"
Three approaches that help us convert prospects into customers
Helping customers to make the right purchase decisions faster is the defining sales challenge for any entrepreneur. The advice that Andy delivers on the podcast today is extremely valuable – you'll take away tips that you can put to immediate use in your selling. Scroll down to the Podcast Player and listen now!
Podcast Player: