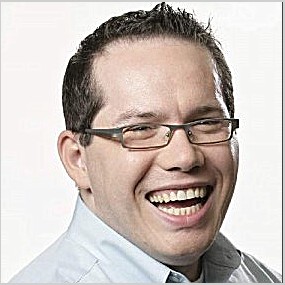 [Legacy post: Small Business Talent] With the many social media platforms available to us today, connecting with potential clients online should be easier than ever before. But how do you make those connections and build relationships that lead to new business?
My guest, Phil Gerbyshak, is here today to answer that question for you.  Phil is a well-known social media strategist. He's also a successful consultant, author and speaker who works with both corporate clients and small business owners — helping them to connect with customers online and grow their sales.
Before taking the leap to self-employment, Phil was a V.P. of information technology in the highly competitive financial services industry. Over the years, he delivered in-person and online technology training to more than 2500 networked financial services professionals across 70+ branch locations and numerous small offices and home offices.
Selling services in the business-to-business space is all about building relationships. Knowing how to use powerful social media tools to connect and deepen your relationships with customers is powerful.
Phil is on the podcast today to help you make connecting with customers easier and more productive. Don't miss his practical tips – scroll down to the Podcast Player and have a listen now!
Podcast Player:
The conversation continues on social media. Click below to join in!