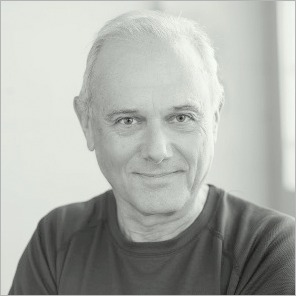 [Legacy post: Small Business Talent] My guest on the podcast today, John Bell, spent 19 years as a self-employed global strategy consultant to some of the world's most respected corporations. Before launching his consulting practice in 1994, John also served as CEO for a major consumer products company in Canada.
John is a prolific writer. His excellent articles on strategy, leadership, and branding have appeared in various marketing journals and business publications, including Fortune and Forbes.
John's new book, Do Less Better: The Power of Strategic Sacrifice in a Complex World, has its roots in his early career. At that time, John and a young leadership team faced the daunting task of resurrecting a struggling company with a complex range of products. He and his team took steps that few business leaders do, setting aside their own egos and trimming down the product portfolio. The business that remained grew rapidly because they had fewer distractions and were able to focus on running it far more effectively.
The lessons John learned by facing down this kind of adversity served him well throughout his career as a CEO and then as a solo consultant. The bottom-line? He learned that "smart sacrifice" is the surprising secret to success.
So, are you ready for some no nonsense advice on how to take your business to the next level of achievement and personal fulfillment? If you said yes, then get ready to take some notes – this is a fascinating interview. Scroll down to the Podcast Player below and listen now!
Podcast Player:
I've heard quite a few marketing gurus talk about what they call "authenticity" and the importance of self-expression. They advise us to mix-in plenty of personal disclosure with our marketing communications (especially when we blog or use social media) to create a sense of familiarity and rapport.
I agree that most clients do want to understand where we're coming from as people. But if we let a desire for self-expression shape the focus of our writing and our client conversations on a regular basis, then personal disclosure takes on a narcissistic quality. That's a good way to turn people off.
In his classic book, How to Win Friends & Influence People, Dale Carnegie frames this issue in a different way. He writes: "You can make more friends in two months by becoming interested in other people than you can in two years by trying to get other people interested in you." I think he understood a crucial key to building trust and creating great relationships.
Taking Mr. Carnegie's advice to heart, I stay focused on my clients' goals and challenges — and I listen to them as deeply as I can. I want to understand them and their world because my business is all about serving them exactly where they are today.
Can you relate to my perspective on the issue of authenticity and self-expression in business? If so, I'd appreciate you sharing this post on social media using the icons below. Thank you for spreading the word!
I read an inspiring true story recently. It was about an entrepreneur with big dreams who stubbornly clung to a set of guiding principles as he developed his business. Over the years, he attracted outstanding leaders and loyal customers. He built a business empire.
The entrepreneur I'm referring to is legendary retailer, Marshall Field. Here are the principles that he and his team embraced:
The value of time
The success of perseverance
The pleasure of working
The dignity of simplicity
The worth of character
The power of kindness
The influence of example
The obligation of duty
The wisdom of economy
The virtue of patience
The improvement of talent
The joy of originating
These are simple yet powerful ideas. Think about it. Can you imagine a smart self-employed person embracing these ideas and not becoming a success? I can't.
All of the people I serve are hardworking, conscientious solo professionals. But then there are those who bring that same dedication and enthusiasm to their own character development, as well. They're a rare find.
Business owners who embrace personal growth as a force multiplier are "The Ones to Watch". Do you agree? Pass on this post to others using the social media share buttons below — thanks for spreading the word!